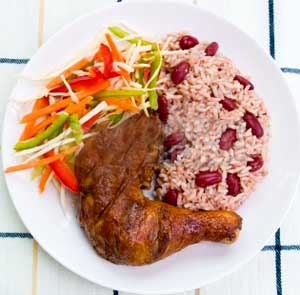 Rice and Peas is a staple for any Jamaican dinner. My Dad would make a huge pot of Rice and Peas on Sundays, and we would eat it with most of our meals the rest of the week. The rice and peas actually start to taste better every day as the seasonings continue to marinate in this fabulous dish. Enjoy.
INGREDIENTS:
2 cups of rice
1 can of tinned or 1 cup of fresh red peas (either kidney beans or pigeon peas)
5 cloves of garlic (finely chopped)
1 uncut scotch bonnet pepper (1 jalapeno pepper may be used as a substitute)
3 Scallion (spring onions may be used as a substitute)
1 tin (or one cup) of coconut milk
1 teaspoon of salt
1 teaspoon of black pepper
2 sprigs of fresh thyme (2 teaspoons of dried thyme may be used as a substitute)
COOKING INSTRUCTIONS:
Drain juice from beans, add coconut milk + sufficient water to make 5 cups of cooking liquid.
Put beans, "cooking liquid" and garlic in a pot and bring to the boil, simmer for 2 minutes.
Add scallions, thyme, and black pepper and salt to taste, simmer for a further 2 minutes.
Add scotch bonnet pepper (as this is not cut up it will not make the rice spicy, it will just add a subtle Jamaican flavour).
Add rice and let boil uncovered for 20 minutes (or until all liquid has been absorbed if this is sooner). Remove scotch bonnet pepper then serve.
If you have any modifications to make this recipe more delicious then feel free to leave a comment.
40 Responses to "Rice and Peas"
Leave a Reply